Shaping culture requires checking the homework.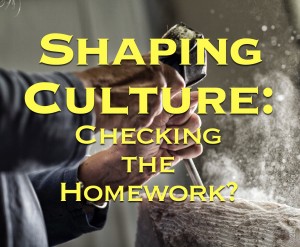 When you were a child you no doubt had school homework. Homework. The word itself can raise your blood pressure. Who wants homework? No one! But why do teachers assign homework anyway? The lesson needs to be engrained and learned. It needs to be engrained into the student's brain. Homework is assigned and homework is turned in and homework is graded. The wise student then reviews where they made their mistakes and learns from them.
Do we do that in the church? How do we assign homework? How do we do the homework? How do we turn it in, check it and review our mistakes and also what we did right? If at all it is not done very often or very well. But shaping culture requires checking the homework.
Up front, the vision helps provide the direction and motivation. It is the preferred future condition that must be done. It then works as a filter. It helps you to say "yes" to some things and "no" to other things. You make decisions on hiring or calling staff, choosing programming, setting budgets and how you as a ministry leader spend your time.
But what about after the fact? What about after you get that new staff member or after the event or having spent money or how you spent your time (annual, weekly or even daily reviews!)? That's when checking the homework comes in.
Call it checking homework, call it a feedback loop, call it action learning, call it debriefing but whatever you call it, if you don't schedule it to intentionally make it happen you have lost another opportunity to shape culture. You have missed a chance to embed what is really important with your team and your church and you are probably allowing a different message to be sent. (See blog on unintended consequences of our behavior).
So what do you do? With practically everyone and everything else you carve out the time…but wait…I don't have time! Well, what's more important than checking to see if you are on target? Does a ship's captain or a airplane pilot ditch their directional instruments? Don't new car manufacturer's now put lane departure warnings on their cars? Absolutely. If you want to get where you believe God wants you to go you will make the time. So carve out the time and ask some very pointed questions and check the homework (what has happened or what has been done recently):
Reviewing the "homework" questions:
How did it go? How did bring us closer to living into our vision for ministry?
Did it accomplish the goals? if not, why not?
What did we learn? What do we need to unlearn?
How could we have done it better?
How could we have incorporated/been more intentional in reaching our goals through what we did (ie. use this event, activity, staff position, etc to involve and engage new people, give responsibilities to emerging leaders, etc)?
Who stepped up and how can we encourage them going forward?
What's the follow up/next steps plan?
Shaping culture requires checking the homework…are you checking? What are you checking?
Sign up to be notified of blog updates
Scott Gress is called by Lutheran Counseling Services and partners with the FL-GA District of the Lutheran Church as an independent contractor. He specializes in Leadership Training, Consulting, Coaching and Coach Training. Contact Scott to continue the conversation or experience a free sample coaching session. 561-542-4472, scottgress@me.com or scottgress.com
Shaping Culture: Checking the Homework?