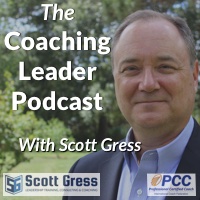 A podcast about coaching, leadership and leading through coaching.
There are many styles and approaches to leadership. Here we explore them and share that there is another way to lead: Leading like a coach!
We will be interviewing those who have unique experiences, skills or knowledge and sharing information that will help you to lead more joyfully and productively.
Subscribe on iTunes, Stitcher or Google Play using the links in the player above and email us at scottgress@me.com and share what areas of coaching and leadership you would like to hear about and also who might be a good person to interview.